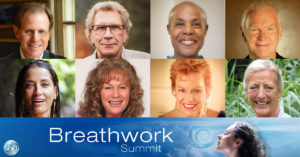 from March 23rd – 27th
Have you ever watched closely how a baby breathes? Their entire body flutters with unhindered movement with each inhale and exhale…
YOU can be that unencumbered again — shaking off the crust of old tension habits and fully expressing yourself in a world that desperately needs more embodied, centered souls!
We're honored to sponsor this powerful gathering of more than 45 of today's highly sought-after breathwork experts and teachers —including Dr. Dan Siegel, Rollin McCraty, Kathleen Booker, Jessica Dibb, Jim Morningstar, Gay Hendricks, Dr. Ela Manga, Anthony Abbagnano, Rhonda V. Magee JD, Dan Brulé, and Dr. Stephen Porges.
They'll be sharing simple breathwork practices to move you from stress, anxiety, fatigue, or depletion into easeful states infused with vitality and relaxed alertness.
The Breathwork Summit reveals the science, art, and power of full-spectrum breathing. I hope you'll participate in this online gathering presented by The Shift Network. Prepare to be transformed!
RSVP here for the Breathwork Summit — at no charge:
https://shiftnetwork.infusionsoft.com/go/bws20a21055/a21055
During this profound 5-day event, you'll discover:
Enhanced breathing techniques to calm down and "groom" your nervous system so you're less easily triggered by outside circumstances

Enhanced breathing techniques to calm down and "groom" your nervous system so you're less easily triggered by outside circumstances

Groundbreaking research and the latest discoveries in the science of breath

Ways you can apply breathwork in challenging, high-stress settings

Landmark ways to use breathwork in community building

Breathing practices that aid in sexual wellness

A comprehensive breathing "plan" you can integrate into your daily routine

Immediate shifts (less than a minute!) in your conscious perception

Increased health — including boosted immune system, cardiac vigor, and more

Inspiring stories on how breathwork is used in humanitarian crises

Ways that breathwork skills are being used to mitigate and even transform the dynamics of racism